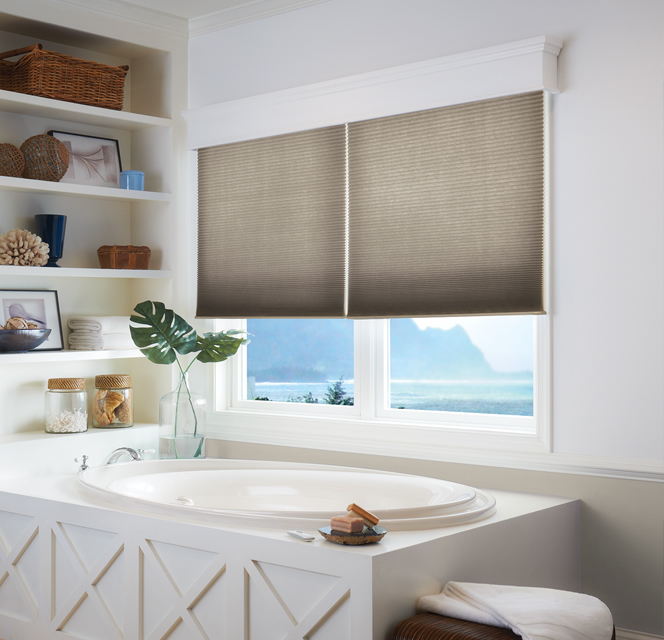 Order Cellular Shades Today!
With so many desirable window treatment options to enhance the function and style of your home or office space, it can be difficult to choose the perfect products. If you're looking for elegance and ease of use, cellular shades from The Blinds Side are ideal.
With offerings from trusted manufacturers like Graber, Hunter Douglas, and Comfortex, you'll find a wealth of products and features that deliver the practical and aesthetic advantages you seek. When you want versatile lighting and optimal privacy controls, luxurious and customizable cellular and honeycomb shades from The Blinds Side are the best choice.
Versatile Top Down Bottom Up Light and Privacy Control
The experienced professionals at The Blinds Side work hard to ensure your satisfaction with quality products and outstanding service. We're pleased to offer a range of options for cellular shades, such as the versatile Hunter Douglas Duette and similar products. This top down bottom up shade comes in both single cell and honeycomb options, as well as a wealth of colors, fabrics, textures, pleat sizes, and opacities.
Cellular shades are second to none when it comes to flexibility for your personal or professional spaces. Keep shades closed to enjoyed filtered lighting and maximum privacy. Open the top to allow for more natural light without sacrificing privacy or open the bottom to enjoy your beautiful view. These shades are not only perfect for standard window sizes, but they're a great choice for oddly sized and specialty windows, as well, from skylights to arches.
When you partner with The Blinds Side to outfit your home or office with the perfect window treatments, we'll help you to find and install the cellular shades you need to make the most of your interior spaces, controlling the light coming in and preserving your desired level of privacy.
Cellular shades are not only beautiful, but they offer the convenient utility and easy maintenance busy customers prefer. Features like cordless functionality help to preserve a neat, clean appearance and reduce risks for children and pets in your home. In addition, very little maintenance is required to keep your cellular shades looking fresh and new. Occasional vacuuming is all that's needed to keep the color and sheen of your shades intact.
When you choose Hunter Douglas Duette shades or other cellular or honeycomb shades, you'll get more than you bargained for thanks to features like flame resistance, noise reduction, and more. One of the most desirable features of honeycomb shades is the added energy efficiency they provide.
Windows are a common point of energy waste in the home and business setting. Cellular shades that feature honeycomb interiors provide added insulation that helps to regulate your interior climate and delivers energy savings. You may pay a little more up front for this feature, but the savings you enjoy in time will more than compensate.
Cellular shades from The Blinds Side are the versatile window treatments you've been looking for, thanks to features like top up bottom down, cordless, and honeycomb construction, not to mention a wide array of elegant styling options. Contact The Blinds Side today at 410-630-6940 or [email protected] to learn more and get started with your consultation.