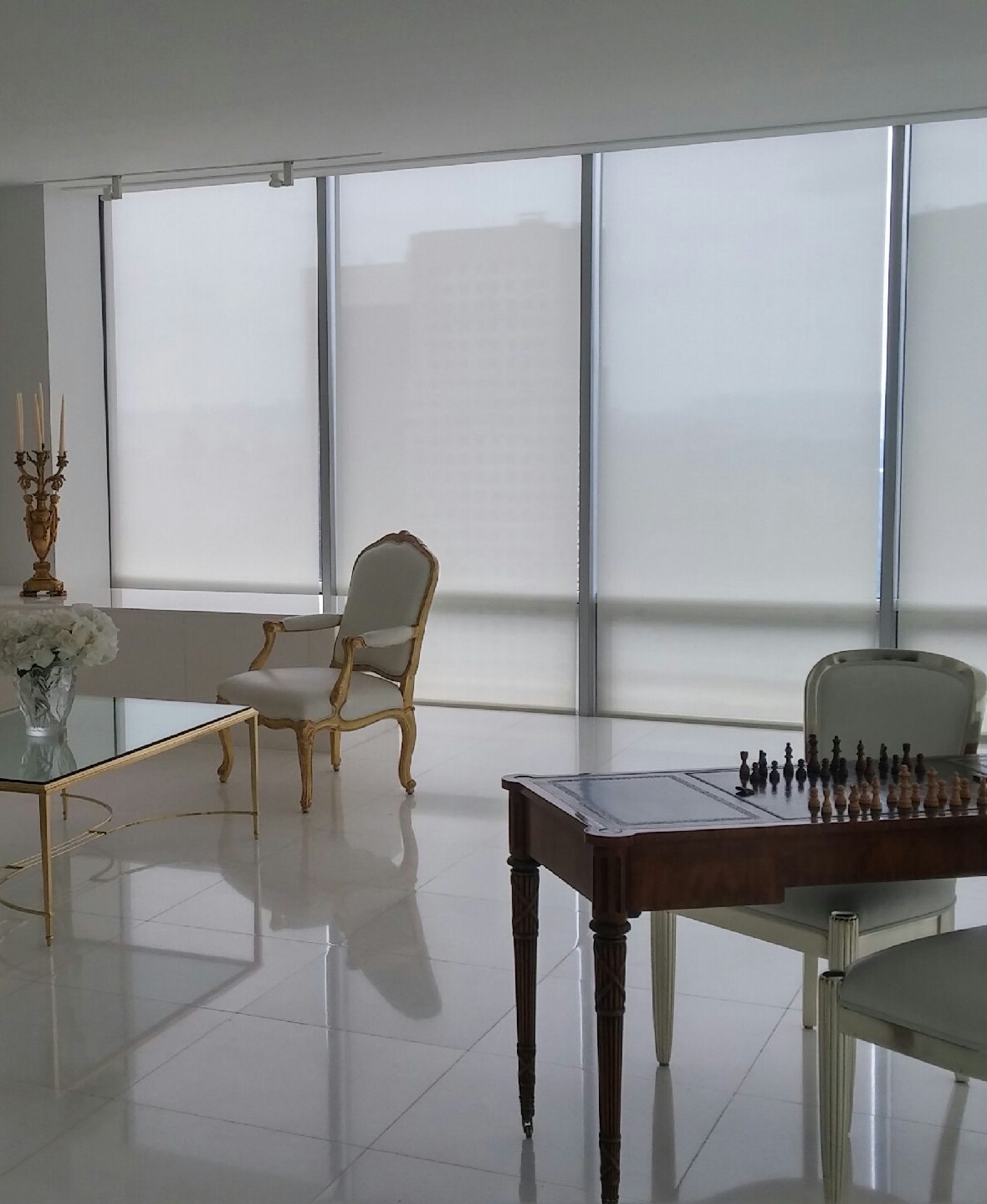 Order Motorized Window Shades Today!
The Blinds Side is pleased to offer a wide variety of window treatments for commercial clients to choose from, including blinds, shades, shutters, and more. We also pride ourselves on exploring the latest innovations in quality materials and technologies designed to improve the lives of users. When you're looking to add convenience to your window treatments, partner with The Blinds Side to implement motorized solutions that increase the utility of any window covering.
With more and more smart technology innovations providing remote controls for lighting, temperature, security systems, and more, you have access to solutions that integrate and add convenience to your operations. The Blinds Side has partnered with reputable manufacturers to provide strong and silent Somfy motorization or modern and easy to use Simplicity motorization for your preferred window treatments.
Attractive and Efficient Somfy Motorization
Decorating your commercial space requires a balance of function and form, but you must always take cost into consideration. Installing motorized window treatments will cost a bit more, but you stand to save money with energy-efficient solutions.
With window treatments outfitted with Somfy motorization, you have the ability to adjust all of your window treatments simultaneously if you want, altering incoming light and heat with the touch of a button. This means you can cut down on harmful UV rays, as well as attendant glare and heat gain, or increase illumination later in the day rather than turning on electric lighting.
In both scenarios, you stand to save on energy needed to regulate interior temperatures and compensate for dim lighting. This, in turn, saves you money, resulting in return on investment from upgrading to motorized window treatments.
Easy and Convenient Simplicity Motorization
Consider the hassle of manually adjusting the shades or blinds in your office or retail space, one by one, throughout the day as lighting and heat conditions change. This takes valuable time that could be better spent on more significant tasks.
With solutions like Simplicity motorization, you no longer have to choose between living with uncomfortable solar glare and heat or tearing employees away from more important tasks to adjust window treatments. Whether you operate a crowded office space, a bustling retail store, or a high-end eatery, you want to make sure employees and patrons are comfortable and relaxed. The right commercial motorization can add convenience and ease of use for any window treatment.
Modern Solutions for Commercial Operations
The Blinds Side goes above and beyond to partner with reliable manufacturers and offer ample solutions for any commercial interest seeking tailored solutions for window treatments. Our vast selection of drapes, blinds, shutters, and shades ensures that you'll find the modern, attractive, and functional window coverings you need to get the most out of any commercial space.
Once you find the window treatments that complement your décor, enhance your style, and create the wow factor you're looking for, it's time to take them to the next level with options for motorization. When you're ready for an upgrade that will save you time and money, contact the qualified professionals at The Blinds Side at 410-630-6940 or [email protected] to schedule your consultation and receive expert advice and superior installation services.