Storefront Window Treatments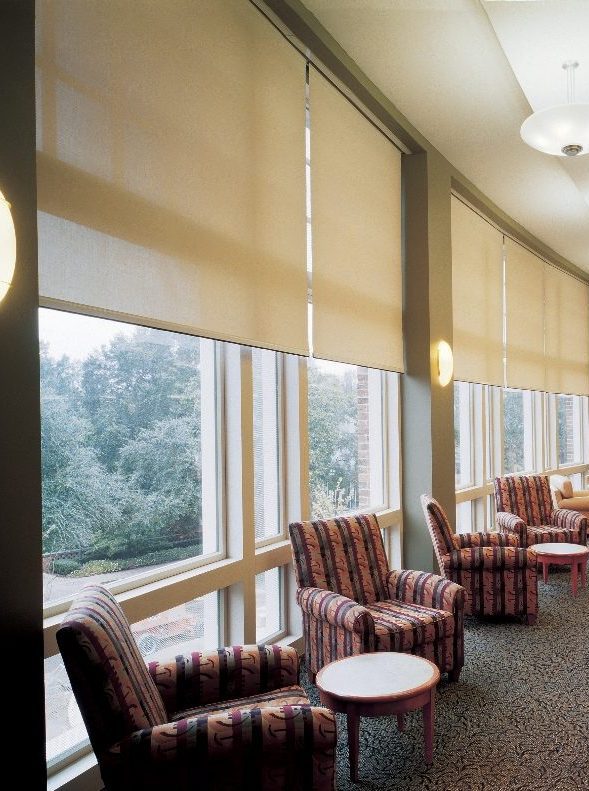 Order Storefront Window Treatments Today!
Storefronts are virtual advertising space. Whether you add signage or create window displays, this area serves as an invitation to enter your establishment and learn more about your goods or services. Of course, you have to consider not only how the windows in your storefront impact passersby, but also the effect they may have on customers and employees in your store. If glaring sun shines in throughout the day, blinding patrons so they can't adequately peruse your wares or causing heat gain that makes your store stifling and uncomfortable, you're not going to earn any accolades – or patronage.
The qualified professionals at The Blinds Side can help you to find the perfect solution with window treatments designed with your retail operation in mind. The right blinds or roller shades can easily help you to reduce glare at certain times of day, while solar shades can do even more to minimize heat gain and even preserve the outside view. You stand to gain a lot when you partner with The Blinds Side to help you select and install the best window coverings for your storefront.
Add Comfort and Convenience with Roller Shades
Sun exposure has its benefits. When natural light enters your store, you have the opportunity to reduce electric lighting and save energy and money. That said, the glare and heat of the sun can make for a pretty uncomfortable interior.
Roller shades in varying levels of opacity provide an ideal solution. Even when closed, the right shades will allow some natural light in, giving you the power to control your interior lighting as you see fit, adjusting it throughout the day if necessary. This allows you to display your wares in the best possible light at all times.
When you upgrade to motorized shades with options for remote control and automation, you ensure that employees don't even have to leave their post at the register to adjust shades – they can do it with the click of a button. With assistance from the talented and experienced professionals at The Blinds Side, you'll get the perfect window treatments for your every need.
Reduce Expense with Solar Shades
Solar shades are among the most cost-effective options when it comes to window treatments. These products are designed for energy-efficiency, significantly reducing not only glare, but also the infiltration of harmful UV rays and heat gain from the sun. When used properly, solar shades can help to reduce energy costs and save you an incredible amount of money over time. They're also strong, durable, and easy to clean and maintain.
Create Ambience with Commercial Window Treatments
The Blinds Side is proud to partner with several reputable manufacturers to offer a wide range of shades, including a variety of materials, colors, patterns, and even custom designs, such as printed logo graphics. We offer motorized options to increase utility and convenience, along with easy integration with other automated systems in your store.
If you're looking for attractive window treatments that elevate the ambience of your store even as they deliver greater comfort and energy savings for your business, contact the qualified experts at The Blinds Side today at 410-630-6940 or [email protected] to schedule your consultation and learn more.