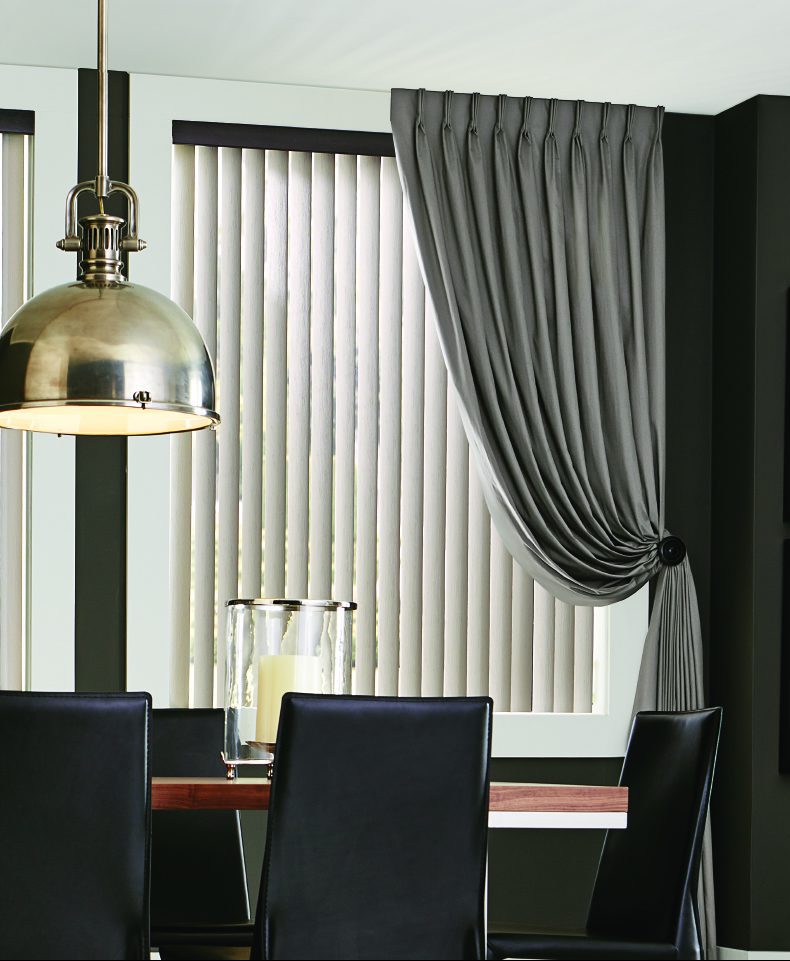 Order Vertical Blinds Today!
The many types of blinds offered by The Blinds Side are sure to provide suitable solutions for every window in your home or office. While traditional, horizontal blinds are a beautiful complement to most windows, larger expanses of glass may benefit from a different take on this superior window covering, namely vertical blinds.
When you choose fabric vertical blinds for your picture windows or sliding glass doors, you don't have to sacrifice function or style. You'll get the sophisticated appeal of a floor-to-ceiling window treatment paired with the privacy, light control, and longevity of standard blinds, not to mention a few unexpected perks. With superior products like Hunter Douglas Luminettes and Cellular Vertiglide, along with Graber and Comfortex designs, The Blinds Side is ready to deliver the stunning and practical solutions every home or office expects and deserves.
The Privacy of Fabric Vertical Blinds
Fabric vertical blinds do so much more than cover your large windows. They add visual height to your room without the bulk of some other floor-to-ceiling window treatments, such as heavy drapes. This can help even smaller rooms to retain a light and airy feeling when large areas are covered by window treatments.
You'll also enjoy exceptional privacy with options like Hunter Douglas Luminettes. These privacy sheers can slide open to provide an unobstructed view or close to deliver a totally opaque window covering. However, the panes can also be rotated, as with most vertical blinds. The added appeal of these fabric vertical blinds is that the gauzy covering creates a translucent barrier, providing added privacy without eliminating the ingress of natural light.
The Light Control of Hunter Douglas Luminettes
You'll be hard pressed to find better products for controlling natural light in your home or office than Hunter Douglas Luminettes or Cellular Vertiglide products. Open them wide to allow unfettered natural light indoors or close them completely to create a cool, dark interior space.
Of course, you can also rotate the vanes incrementally to let in a little or a lot of light, as well as control the directionality of light streaming in. With fabric panels between each vane, you'll avoid the damage and heat of direct sunlight while still enjoying the natural appeal of diffuse outdoor lighting filtering in. Fabric vertical blinds are the simple solution to both your privacy and light control needs, especially when dealing with large windows.
The Convenience of Cellular Vertiglide
The Blinds Side offers a wide range of vertical blinds to choose from, complete with an array of colors, shapes, and styles to add luxury and sophistication to every room in your home or office setting. In addition, you'll adore the minimal upkeep and maintenance these window treatments entail. Unlike horizontal blinds, Cellular Vertiglide and other vertical blinds don't tend to gather much dust, so that you rarely have to clean them. When you do, it's a quick and easy process.
If you want striking and elegant window treatments that offer the height of functionality, fabric vertical blinds are a must. Contact The Blinds Side today at 410-630-6940 or [email protected] to schedule your consultation and learn more about our vertical blinds.