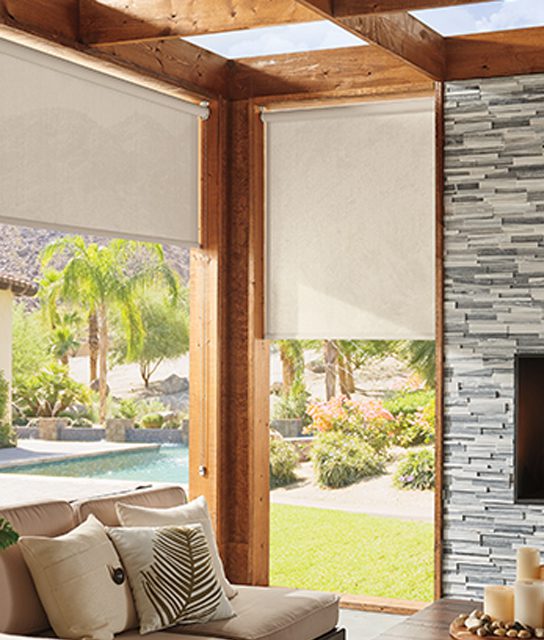 Order Exterior Solar Shades Today!
Window coverings are one of the first additions to any new home or office. These treatments provide needed privacy and help to control the natural light coming in. Other benefits include noise reduction and temperature control for greater energy efficiency. However, if you want to get the most from your window coverings, you should also consider the advantages to be gained by partnering with The Blinds Side to install exterior solar shades.
We only select premium products that are going to deliver the functional features and stylish options modern consumers expect, which is why we're pleased to work with manufacturers like Graber, Hunter Douglas, and Comfortex to offer outdoor shades that meet all of your wants and needs. When you're ready to upgrade and enjoy enhanced use value from your window treatments, The Blinds Side has the versatile products and superior customer service you deserve.
Added Value with Energy Efficiency
Many blinds, shutters, and shades can help to keep the sun at bay, but exterior solar shades are designed specifically to ward off the sun's harmful rays in order to protect your home interior. The sun can fade carpeting and furniture and increase the temperature in your home, causing discomfort and increasing energy bills.
Exterior solar shades offer an ideal solution for energy- and cost-efficiency. You'll enjoy savings all summer long with shades that prevent direct sunlight from entering your interior, even as they allow filtered light to seep in so you can still benefit from beautiful, natural daylight in your living spaces.
Heat gain through windows is one of the main culprits behind rising demand for air conditioning and sky-high cooling costs throughout the summer months. You can easily address these issues when you work with the experts at The Blinds Side to choose and install appropriate outdoor shades.
It's normal to wonder just how long exterior shades will hold up to the elements. After all, nature can be a harsh mistress. However, solar window coverings are made from the highest quality materials and designed to withstand damage from the sun and inclement weather.
Exterior shades from The Blinds Side are intended to retain their insulative properties and attractive appearance. With basic maintenance, including little more than the occasional wipe-down, your exterior solar shades will deliver optimal performance and curb appeal for years to come.
Comfort and Visual Appeal
Form and function are evenly matched in the exterior solar shades offered by The Blinds Side. You'll find it much easier to regulate the temperature in your home when you add outdoor shades, and you'll simultaneously gain greater control over privacy, adding comfort to your home on every level.
That's not all, though. You'll also appreciate the aesthetic appeal of these outdoor shades with long-lasting, quality materials that stand the test of time. When you partner with the experienced professionals at The Blinds Side, you'll get the advice you need to make an informed decision about the best products to suit your needs, your architecture, and your personal aesthetic sensibilities, followed by expert installation services.
The Blinds Side is ready and waiting to help you get the best exterior solar shades and other needed window treatments for your home or business setting. Contact us now at 410-630-6940 or [email protected] to get started with your consultation and personalized care.