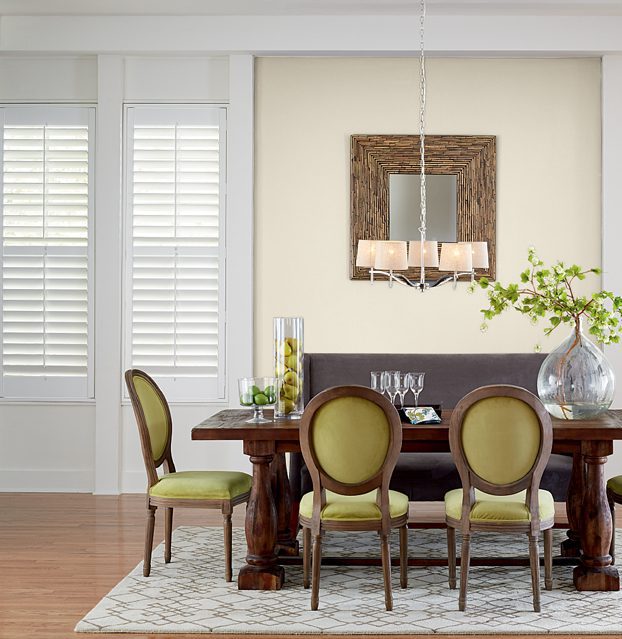 Order Composite Shutters Today!
When you want the look of wood shutters but the price is a bit out of your range, you'll be happy to learn that The Blinds Side can offer you a stunning and practical alternative in the form of composite shutters. When you want the strength and durability of modern materials paired with the look of hardwood, faux wood shutters fit the bill, delivering the quality and visual appeal you need to enhance your home or office spaces.
Quality and affordability need not be mutually exclusive when you partner with the qualified professionals at The Blinds Side to find the custom products that perfectly complement your interior spaces. What can you expect when you choose NewStyle shutters from Hunter Douglas or other appealing products from trusted brands like Graber and Comfortex? A lot of value.
Striking Faux Wood Shutters
Faux wood shutters provide an appealing alternative to natural wood products for several reasons. Not only do they deliver the look of real hardwood at significantly reduced cost, but you have dozens of options for finishes to personalize your space.
The traditional look of shutters can complement any home or office, adding warmth, beauty, and a welcoming atmosphere that puts people at ease. It can also elevate the look of your space, infusing your rooms with a rich and elegant aesthetic thanks to heightened style and visual appeal. If you want the stunning look of wood blinds at a price you can afford, composite shutters will help you to reach all of goals for your home or office décor.
Quality Composite Shutters
The benefits of NewStyle shutters and other faux wood window treatments cannot be overstated, especially when it comes to the quality you'll enjoy. These strong and durable products not only deliver the same longevity as real wood, but modern materials ensure resistance to humidity, reducing risks for warp, rot, mold, and more.
This means they not only make an ideal addition to bedrooms and boardrooms alike, but they work equally well in kitchens and bathrooms. Composite shutters are nothing if not versatile. In addition, eco-conscious homeowners and businesses will appreciate the sustainable practices and materials used to create faux wood shutters available at The Blinds Side. With eye-catching appeal and a long lifespan, these faux wood products are the perfect window treatment for financially and environmentally responsible clients.
Valuable NewStyle Shutters
The primary value of faux wood window treatments is obvious – they allow you to get the look of real wood while maintaining your budget and your eco-friendly ideals. However, they provide even more value than you might imagine. When you install NewStyle shutters in your home or office, you'll also enjoy convenient light and temperature control.
Composite shutters can be easily adjusted to customize your interior lighting, but they can also block out the heat of the summer sun or the icy winds of winter by adding an extra layer of insulation to windows. When you want to regulate interior temperatures to create a comfortable environment, while reducing energy costs in the process, faux wood blinds from The Blinds Side offer an ideal solution.
If you're ready to upgrade your décor with fabulous faux wood window treatments, contact The Blinds Side today at 410-630-6940 or [email protected] to schedule a consultation and learn more about composite shutters.