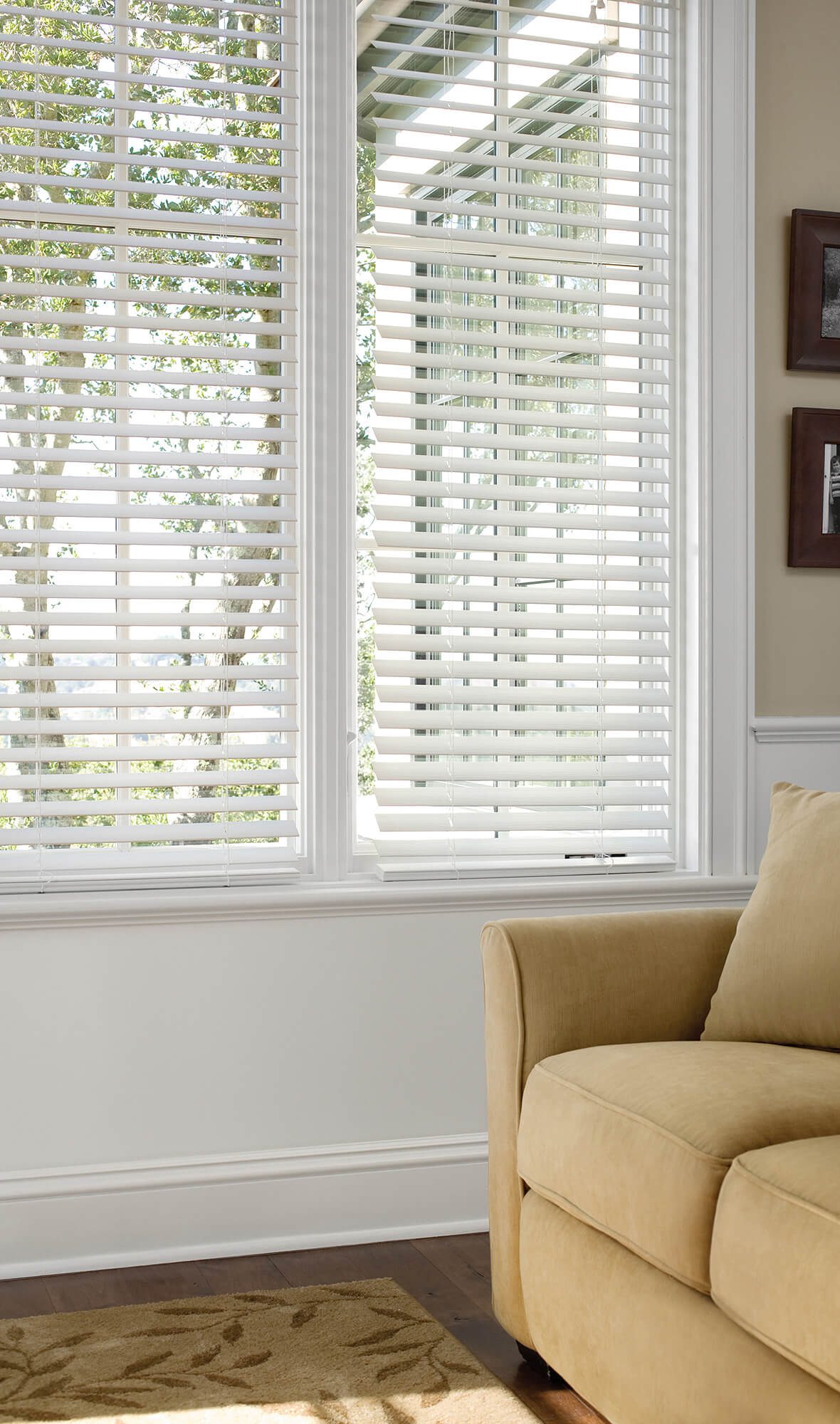 Order Faux Wood Blinds Today!
Some homes call for luxurious window treatments while others require a more traditional approach. If your style demands the best of both worlds, you couldn't choose a better window treatment than faux wood blinds that offer classic appeal paired with a modern, streamlined appearance. With offerings from trusted and esteemed manufacturers like Graber, Hunter Douglas, and Comfortex, the expert professionals at The Blinds Side can help you to select the fake wood blinds that are perfectly suited to your home or office setting. What can you expect when you choose faux wood blinds from The Blinds Side?
Affordable and Attractive Faux Wood Blinds
There's nothing better than wooden accents to bring a room to life, adding the beauty and warmth of nature to your interior spaces. However, not everyone has the budget to accommodate the luxury of hardwood. The good news is that The Blinds Side offers a variety of fake wood blinds that allow you to enjoy the look you love without the attendant price tag.
Do you love the stateliness of mahogany, the vibrancy of cherry wood, or the warm, golden glow of oak? Maybe you prefer the clean, bright appeal of a painted blind. You can find exactly what you're looking for with faux wood blinds from The Blinds Side, where we're ready to assess your space, listen to your questions and concerns, and advise you on the best options to enhance your interior spaces with stylish window treatments.
Durable, Functional Fake Wood Blinds
Installing eye-catching window treatments is a top priority for many homeowners and businesses, but this is one item of décor that must first deliver superb functionality. Your blinds should provide you with privacy and give you the flexibility to control incoming light from outside.
You don't want to find yourself waking early on your day off because your window treatments fail to block the morning sun. Nor do you want a gloomy office space that damages morale because your window treatments are heavy and immovable. You won't have these issues with faux wood blinds from The Blinds Side.
We pride ourselves on offering a marriage of function and form to suit the practical needs and aesthetic sensibilities of every client. Not only do our blinds give you the flexibility to adjust to your desired level of light and privacy, but smooth, intuitive controls ensure ease of use and longevity. Plus, our faux wood blinds are easy to clean and maintain with little more than soapy water and clean rags.
Options for Customization
With a wide range of options for color, finish, and custom sizing, The Blinds Side ensures that you'll never regret your decision to install fake wood blinds. You can find the products you need to complement your existing style and elevate the overall appeal of any room in the home or office setting.
When you want window treatments that offer the durability, pricing, and custom options to suit your structure and your style, you can't go wrong with faux wood blinds. Contact The Blinds Side at 410-630-6940 or [email protected] to schedule your consultation today.