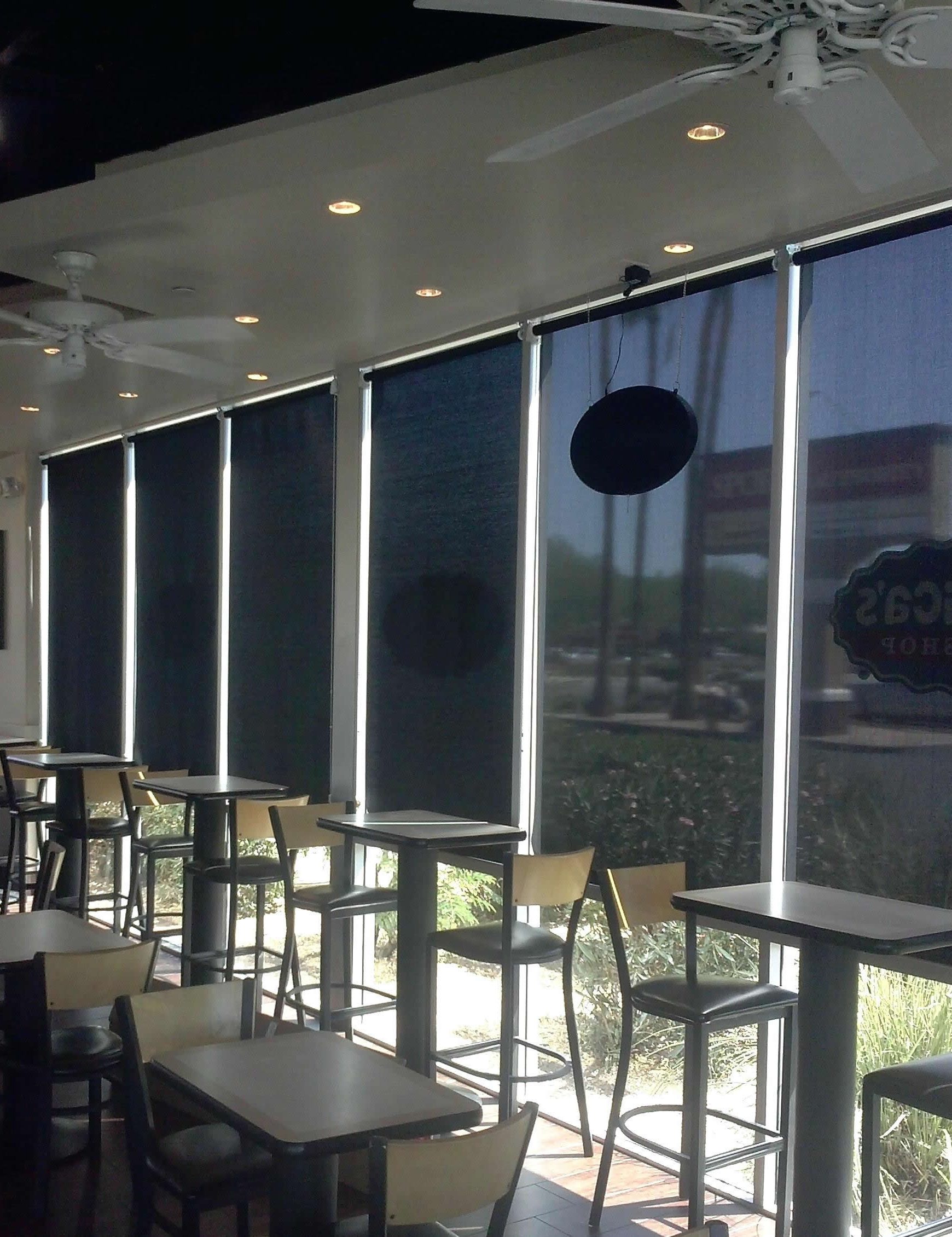 Order Restaurant Window Shades Today!
Restaurants aren't all that different from any other commercial interest when it comes to the need for window treatments. Just like corporate offices, retail spaces, and industrial warehouses, dining establishments need window treatments that provide comfort and convenience for employees and customers, along with styling that enhances the décor and helps to create a particular ambience. Where restaurants differ is in the latitude they have to get creative with the window treatments they purchase from the specialists at The Blinds Side.
There are plenty of shade styles to choose from, including roller shades, solar shades, exterior shades, Roman shades, and even remote controlled and automated options. They come in a wide variety of sizes, colors, patterns, and relative opaqueness, ensuring that every restaurant can choose the products that best suit their practical needs and aesthetic sensibilities. When you partner with the qualified experts at The Blinds Side to help you select and install the perfect shades for your restaurant, you'll enjoy myriad benefits as a result.
There's no denying the comfort and convenience you and your patrons will enjoy when you add practical solar shades to your restaurant setting. These incredible window coverings offer the best of both worlds, reducing the glare, UV rays, and heat gain produced by the sun while still allowing a view of the outside world thanks to semi-transparent materials.
Depending on the products you choose, solar shades could also increase privacy for diners by offering a view from the inside while remaining virtually opaque from the outside. In addition, they are among the safest window treatments for families when you choose models that have no dangling pull cords that small children might get caught in or try to swallow.
Eye-Catching Roman shades
The major appeal of shades comes from their streamlined simplicity. The clean, modern lines of shades lend themselves to commercial settings, providing an unobtrusive addition to any décor. Roman shades offer the same easy functionality, but add some flair through unique styling.
Whether you choose flat shades that can be drawn up uniformly or you prefer the added depth and dimension of pleated folds, these window dressings can add elegance to your restaurant interior and help to create a softer, more inviting space. Roller shades are the height of minimalist styling. Roman shades take your window treatments to the next level with added visual appeal.
When you partner with The Blinds Side, you'll gain access to quality products from reputable manufacturers, expert guidance when it comes to designing your interior spaces, and superior installation services. Our qualified team wants to ensure your complete satisfaction by helping you to find the perfect window shades for your restaurant.
Our products are strong and durable, which means they'll suit your bottom line. They're also easy to clean and maintain for your convenience. With added motorization and automation features, they'll save you time and money, helping to regulate your interior environment and reduce energy waste.
All in all, quality window shades from The Blinds Side are a great way to elevate your décor, enhance comfort, and meet all of your practical needs where window treatments are concerned. Contact The Blinds Side today at 410-630-6940 or [email protected] to learn more and schedule your consultation.