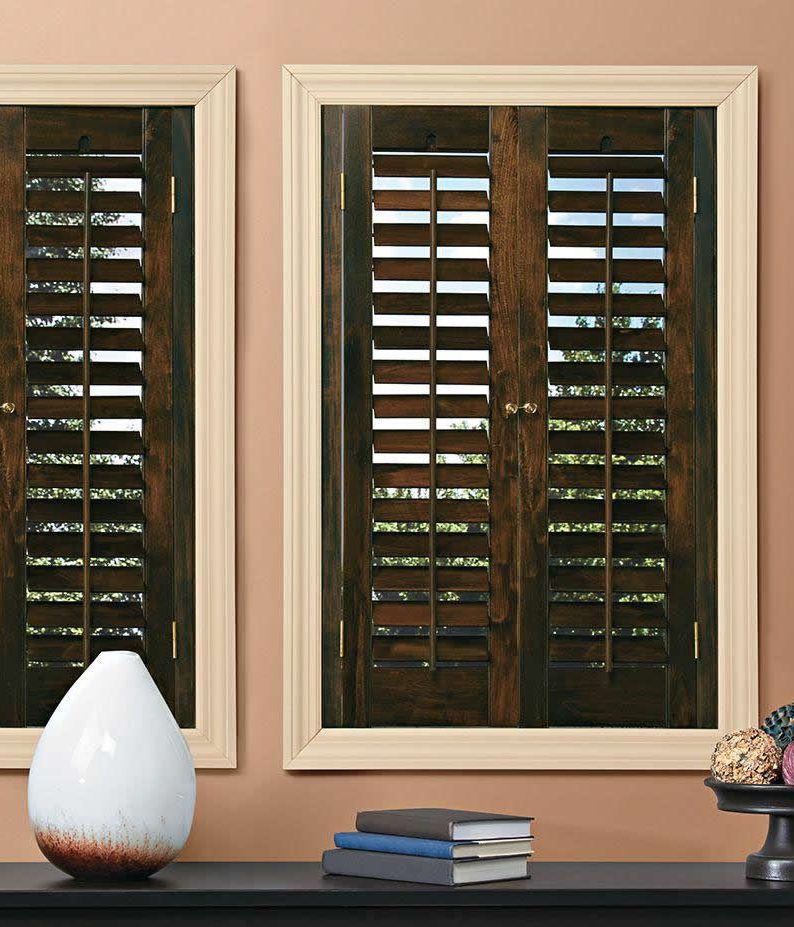 Order Wood Shutters Today!
There's simply no better way to dress your windows in style than with real wood shutters from The Blinds Side. If you want the natural radiance of hardwood to bring warmth and charm to your home or add luxury and class to your office spaces, you'll find that options like NewStyle or Heritance shutters are the perfect complement to any room.
When you select décor, you need to know you're going to receive maximum use value. Real wood shutters deliver a slew of benefits, from strength and durability, to energy savings, to universal aesthetic appeal that elevates your interior spaces. With professional advice and installation from the experts at The Blinds Side, you'll find options like Heritance and NewStyle shutters from trusted brands like Hunter Douglas and enjoy the beauty and longevity that can only come from 100% real hardwood.
Versatile Real Wood Shutters
Real wood shutters are the epitome of elegance and tradition, paired with the function and durability modern homeowners and businesses expect. Heritance and NewStyle shutters make for a stunning addition to any interior space on their own, but they can also be paired with other window treatments like drapes for added personality and style.
The simple, streamlined styling of these shutters ensures they work well with any architectural style and enhance existing décor. In addition, you'll gain the utmost functionality and value with real wood shutters. Choose single panel styles that connect in the middle of the window if the minimal approach appeals to you or select double-hung styles to gain the advantage of letting the light in by opening upper slats while preserving privacy with lower slats closed.
In addition, NewStyle and Heritance shutters offer more than just aesthetic appeal and light control. They also add insulation to windows to reduce exterior heat or cold seeping in. With the right shutters from The Blinds Side, you can maintain a comfortable home environment and save on utility bills, making this purchase a wise investment, as well as an attractive interior upgrade.
Beautiful Heritance Shutters
You'll find tons of beautiful styles and options to choose from when you partner with The Blinds Side to outfit your home or office with shutters. Perhaps you like the warm glow of honeyed oak or the rich depth of mahogany or walnut. Maybe you prefer a painted option that brings a pop of color to your room. With durable and easy-to-use shutters, you'll enjoy stunning window treatments that deliver lasting appeal.
Quality NewStyle Shutters
The strength and durability of wooden shutters is unmatched, as you'll discover when you choose high-end Heritance or NewStyle shutters from The Blinds Side. Sturdy manufacturing with precision, cutting-edge technologies ensures you'll get shutters that are perfectly fitted to your window frames and that open and close with ease. You'll gain the ability to control the lighting and privacy in your home, paired with the timeless visual appeal of these traditional window treatments.
When you're ready to upgrade your décor and increase the functionality of your home or office interior with classic NewStyle or Heritance shutters, contact the experienced professionals at The Blinds Side at 410-630-6940 or [email protected] to schedule a consultation and learn more.