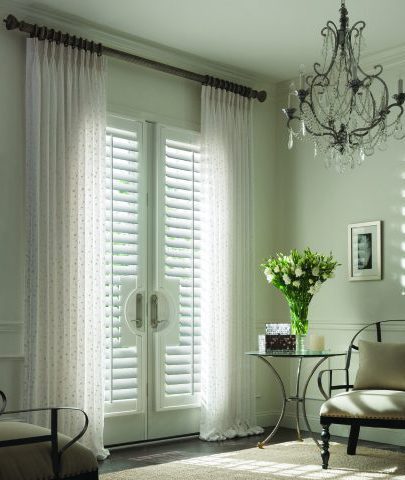 Order Plantation Shutters Today!
Shutters are among the most attractive and traditional ways to cover your windows, and planation shutters present you with the opportunity to showcase your unique style and sophistication through custom window treatments. You can choose from full-length or double-hung shutters, and you have options for bi-fold configurations or even exterior and hurricane shutters that offer added protection for your home.
The Blinds Side is proud to present a wide range of planation shutters to customize your home or office, thanks to partnerships with trusted manufacturers. Whether you select beautiful and reliable Hunter Douglas Shutters or your find the perfect Graber shutters to suit your structure and style sensibilities, you'll get the attractive and durable products synonymous with The Blinds Side.
Options to Personalize Plantation Shutters
There are so many options to consider when it comes to choosing your Hunter Douglas or Graber shutters that your biggest problem might be selecting your favorite. You'll find full-length shutters that span your windows from top to bottom or double-hung products that allow you to open the top half to let the light in while keeping the bottom portion closed for privacy.
You can also select shutters that connect in the middle or opt for convenient bi-fold shutters that require less space to open out when you want to enjoy an unfettered view. You can even add exterior shutters to amp up your curb appeal and protect your home from the elements, thanks to specialty touches that ensure they'll stand up to sunlight and inclement weather.
With many styles, colors, and finishes to choose from, including Graber and Hunter Douglas shutters in materials like wood, composite, and vinyl, you'll have all the options you need to upgrade the look of your window dressings and complete the décor in every room in your home or office.
Versatile Graber Shutters
Plantation shutters are an ideal way to enrich the look of any room, and you'll find almost unmatched versatility with so many options available to you. Shutters allow you to control your level of privacy and lighting as you see fit. If you want just a little light coming in, you can open the slats on just one shutter. Of if you have double-hung shutters, you can tilt the slats on the upper shutters while leaving the lower closed.
This flexibility can also help you to regulate interior temperatures. With Graber or Hunter Douglas shutters from The Blinds Side, you can keep out the sun's rays or just let a trickle of light in to stop your home from heating up in the summer. You can add insulation on cold winter nights, helping to lower energy costs and maintain a comfortable interior.
Quality Hunter Douglas Shutters
The classic appeal of plantation shutters is matched only by their longevity. These products are designed to serve your needs for years to come with quality materials and manufacturing, not to mention expert installation by the professionals at The Blinds Side.
When you're ready to order Hunter Douglas or Graber shutters to accentuate your home or office interior and provide incredible and lasting value, don't hesitate to contact The Blinds Side at 410-630-6940 or [email protected] to schedule a consultation.