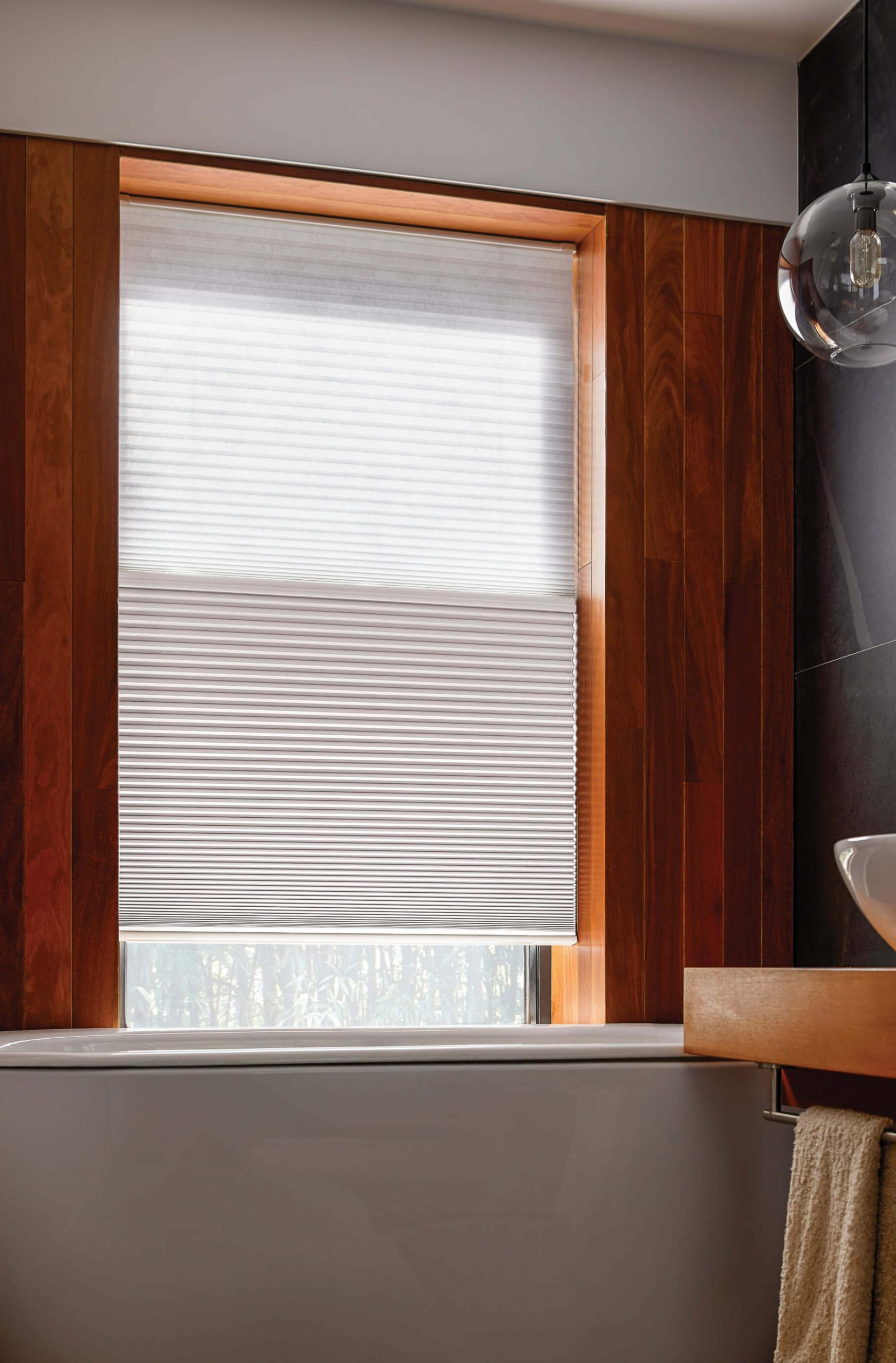 Order Pleated Shades Today!
There's something to be said for the absolute light elimination offered by blackout shutters or shades, but studies show that exposure to morning sun helps to regulate circadian rhythms so you enjoy more restful slumber and better overall health. While you might not like direct sunlight assaulting your eyes first thing in the morning, you can gently ease into wakefulness each day with soft light filtering through your gorgeous pleated shades from The Blinds Side.
These stylish and elegant window treatments add charm and function to any room in your home or office setting, elevating your décor and providing controls for lighting and privacy. Sturdy construction and quality materials ensure longevity, while options for color, sheen, size, and shape give you the ability to enhance any window – large, small, or oddly shaped.
The Blinds Side partners with a host of reputable and reliable manufacturers to bring you dynamic products like EventPleat pleated shades that deliver the function, convenience, and durability you expect, along with the decorative options that allow you to personalize your interior spaces. If you're looking for clean lines and minimalist appeal paired with soft, filtered light and ease of use, pleated shades from The Blinds Side hit the mark on every score.
The Blinds Side is committed to providing only quality products that are going to meet your needs now and in the future. Our pleated shades are so much more than just an attractive addition to your décor. They feature quality materials and high-end construction designed to ensure longevity and ease of use.
These shades offer the functionality and visual appeal you expect. Even when closed, the gauzy folds allow filtered light to imbue your home interior with the warm glow of natural light, protecting your privacy without making your feel like you live in a darkened cave. Light, bright, and airy is the atmosphere you'll enjoy with pleated shades.
You can also open and close shades with ease any time you want to enjoy the view through your window or let in a little more light. These stunning shades fit flush in window frames, even those with odd shapes like arches or circles, making them easy to pair with complementary window treatments. If you want window dressings that add a soft, ethereal appeal to your décor, pleated shades from The Blinds Side deliver the form and function you desire.
The Uniform Appeal of EventPleat
The Blinds Side has numerous options for window coverings to suit every style and practical need, including EventPleat shades in a variety of shapes, sizes, and colors. One appealing feature of these particular pleated shades is the uniform retraction that ensures an even degree of folding among pleats at any height, thanks to a unique ladder system.
When you want beautiful shades that deliver superior value and function at a reasonable price, it's time to partner with the experts at The Blinds Side. We'll help you to choose the perfect window treatments for every room in your home or business location and provide professional installation services and complete customer care.
If you're ready to learn more about pleated shades, contact our qualified team at 410-630-6940 or [email protected] today to schedule your consultation.