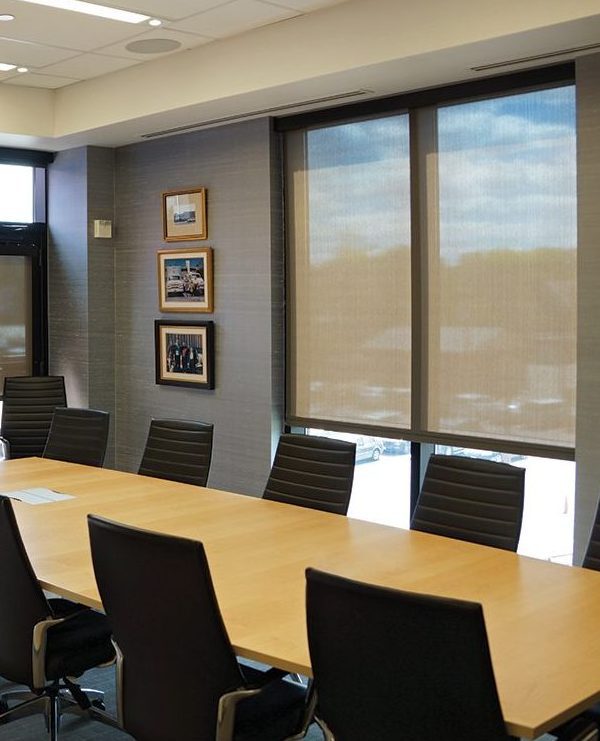 Order Commercial Blinds Today!
Windows are an important part of any business space. They bring attractive, natural light into your work setting and provide a view of the outdoor landscape to visually enhance your interior setting. Unfortunately, open windows can also blast your employees and customers with blinding sunlight, cause your commercial interior to overheat, and put neighboring buildings on prominent display, rather than a scenic vista.
The good news is, the experts at The Blinds Side have the knowledge and experience to help you choose the perfect commercial horizontal blinds for the windows in your commercial setting, whether you run a restaurant, a retail store, a hotel, or an office building. When you need commercial wood blinds to improve your décor, control natural lighting, and better regulate interior temperatures, The Blinds Side offers a wide range of quality products and provides expert installation services to ensure satisfaction from start to finish.
The Beauty of Commercial Wood Blinds
In any commercial setting, visual appeal is going to be a factor when choosing décor. The qualified professionals at The Blinds Side have the expertise to help any business choose the right commercial wood blinds to enhance their interior spaces.
You want to create a beautiful and soothing work environment conducive to productivity, as well as impress visitors with professional and appealing décor. You can accomplish both goals by choosing from the stunning and durable commercial wood blinds or affordable and attractive commercial faux wood blinds available at The Blinds Side.
With so many options for materials, colors, finishes, styles, and sizing, you're sure to find the perfect match for your business needs. The right window treatments can elevate the look of your interior, even as they address practical concerns like lighting and temperature controls.
The Convenience of Commercial Faux Wood Blinds
Whether you're drawn to the warmth, luster, and prestige of real wood blinds or you prefer the flexible pricing and usage that characterize commercial faux wood blinds, the attentive professionals at The Blinds Side can show you a diverse array of products and advise you on which are going to best suit your needs and your preferences. You'll discover many solutions for functional and appealing window treatments when you partner with The Blinds Side.
You need products that are not just attractive, but that also provide for practical concerns. This includes blinds that regulate the ingress of heat and light from outside with streamlined controls that allow for convenient adjustment as needed. You need durable products that are going to stand the test of time. The Blinds Side has you covered on every front with the vertical or horizontal blinds that best suit your business.
The Value of Commercial Horizontal Blinds
Blinds for your commercial setting may seem like an unnecessary expense, but you have to spend money to make money, and functional décor is a must. The commercial horizontal blinds you select have the power to help you regulate lighting and temperature, make life easier for employees, and impress customers entering your commercial operation. This all results in increased opportunities for productivity and patronage.
If you're ready to enhance the look of your commercial setting and gain better control over the interior environment, contact the qualified professionals at The Blinds Side now at 410-630-6940 or [email protected] to schedule a consultation and learn more.