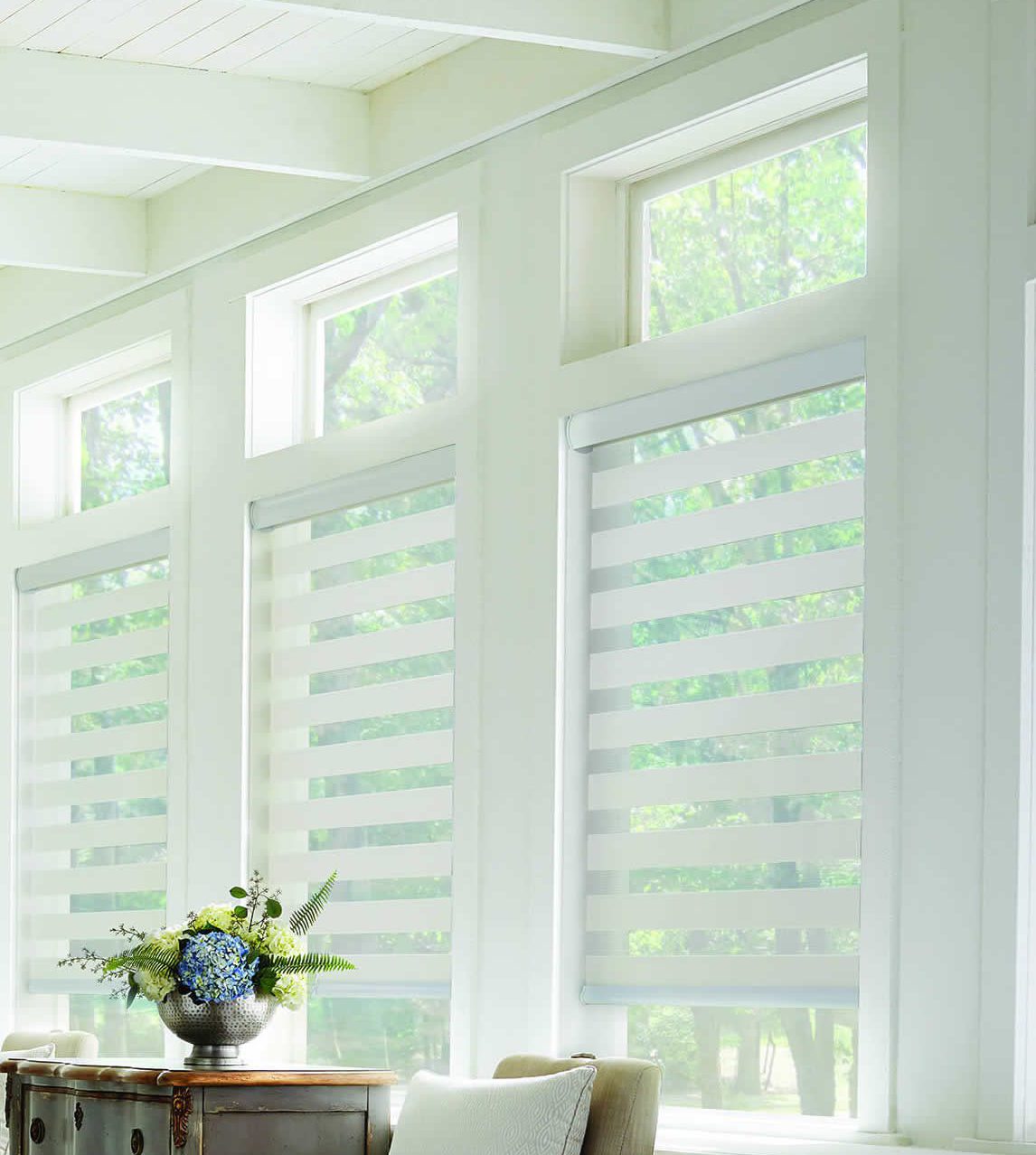 Order Layered Shades Today!
The Blinds Side is always seeking the latest advances in window treatments to ensure that you have access to the solutions that will add the greatest comfort, convenience, and aesthetic appeal to your home or offices space. Layered shades have become a popular choice due to the many benefits they infer, including longevity, solar protection, and versatile lighting and privacy controls, not to mention the beauty they add to your décor.
You may not yet be familiar with the mezzanine shade, but when you consult with the qualified professionals at The Blinds Side, you can learn all you need to know about these attractive and high-performance window treatments. When your priorities for window coverings include privacy, light control, and a view all in one, you can't go wrong with modern, layered shades.
The Blinds Side proudly partners with reputable manufacturers like Graber to offer you top-quality products, such as the exceptional mezzanine shade. The delicate balance between privacy, view, and light control is brilliantly accomplished thanks to alternating panels of sheer and opaque fabrics that allow light to filter in according to your desire.
Even with the sheer layers exposed, layered shades provide unmatched performance, blocking up to 99% of harmful UV rays to reduce fading of interior surfaces in the path of the sun and stop overheating that causes you to blast your AC and accrue outrageous energy costs. Quality materials and manufacturing ensure longevity.
In addition, you can choose cordless or hidden cord options for the safety of children and pets in your home. Graber mezzanine shades are also certified to be free of PVC, phenols, formaldehyde, and other potential toxins and they meet VOC content limits for your safety.
Versatile Mezzanine Shade Products
Layered shades from The Blinds Side offer the ideal balance between two disparate goals: preserving your privacy and enjoying the view. This alone makes them a perfect addition to any home or office setting. However, there's a lot more to love about these versatile, modern window treatments.
When you partner with the experts at The Blinds Side, we'll not only explain the pros and cons of different window coverings so you can make informed decisions, but we'll also help you choose from a wide variety of colors, patterns, and styles to suit your décor and your personal style preferences.
Whether you're looking for a soft and inviting addition to your home décor or you want to elevate the appearance of your office with functional and sophisticated window treatments, layered mezzanine shades are the modern, versatile window coverings that meet all of your many goals.
In addition to providing supreme functionality and stunning visual appeal, these products are surprisingly affordable. At The Blinds Side, we strive to provide the greatest value at reasonable cost so you can get the window treatments that make your house feel like a home or transform a drab office into a vibrant work environment.
If you're ready to take your décor to the next level with beautiful, versatile layered shades that offer the height of performance, contact the dedicated professionals at The Blinds Side at 410-630-6940 or [email protected] now to learn more and schedule your consultation.