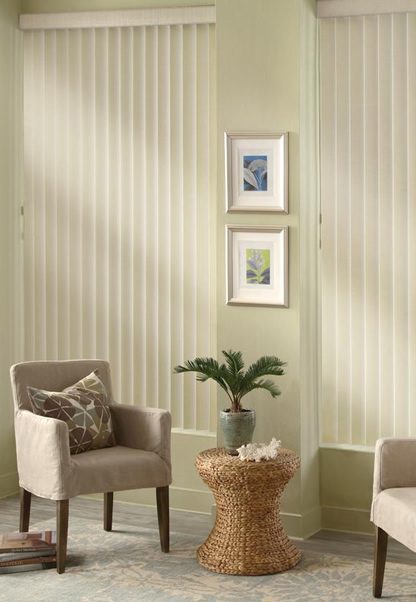 Order Hunter Douglas Verticals Today!
The Blinds Side is pleased to offer a range of elegant vertical blinds from Hunter Douglas to complement and cover large expanses, including windows, sliding doors, and more. If you need the comfort and convenience that only vertical blinds can supply, the Skyline, Cadence, Somner, and Vertical Solutions collections from quality manufacturer Hunter Douglas provide ideal solutions.
The sleek, elegant lines of the Skyline collection are punctuated by rich fabrics, attractive textures, and a range of colors that let you customize and enhance your interior design. When closed, you'll enjoy diffused natural lighting and the height of privacy, and tight stacking when opened ensures unfettered views. You can also pair these versatile vertical blinds with other window treatments for a truly custom look.
The curved vanes of Cadence soft vertical blinds mimic the softness of drapery and provide for diffuse natural lighting when closed. You'll enjoy the covered headrail design that eliminates lighting gaps to create a soothing, darkened environment as desired.
With a vast selection of colors, textures, materials, and treatments to choose from in the Somner collection, you'll enjoy practically unlimited options to update and enhance your décor with truly spectacular window treatments. Ease of operation provides a convenient means of attaining superior light and privacy control.
Available in fabric and vinyl options to suit your needs for attractive and easy-to-maintain window treatments, the free-swinging vertical blinds in the Vertical Solutions collection deliver the economical, convenient, and long-lasting appeal that both residential and commercial customers can get behind.
Update your interior décor by contacting The Blinds Side at 410-630-6940 or [email protected] now to learn more about Hunter Douglas vertical blinds.