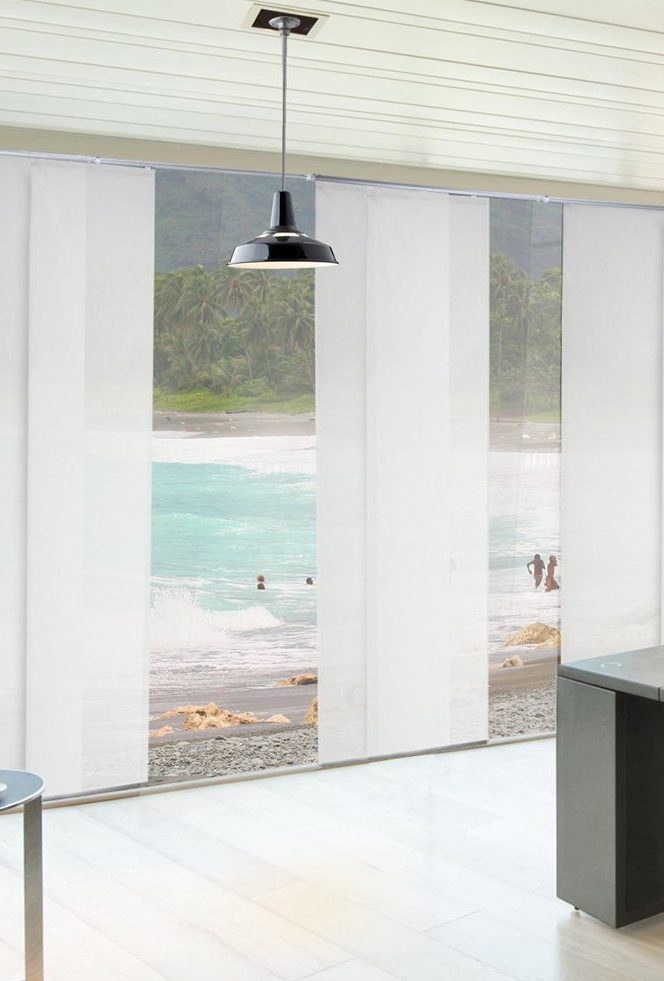 Order Sliding Panels Today!
Window treatments generally offer either vertical or horizontal functionality (unless you have specialty windows like arches or circles that require a novel approach). When it comes to shades, you are probably most familiar with the rolling or layered varieties that provide horizontal coverage, opening upward. However, The Blinds Side also offers refreshing alternatives like sliding panels from reputable manufacturers like Graber, Hunter Douglas, and Comfortex for those seeking striking and sophisticated alternatives to standard window treatments.
Not every window will benefit from the same type of covering, which is why it's so important to partner with qualified professionals like the experts at The Blinds Side to choose the best products for every window in your home or office. We proudly offer the wealth of our knowledge and experience when advising you on available options that suit your décor and your personal style, and we're pleased to provide superior installation services for end-to-end satisfaction.
When you're interested in fabric vertical blinds to cover your floor-to-ceiling windows and sliding doors, or simply to add drama and the illusion of height to any room, the qualified professionals at The Blinds Side are ready to help you enhance your home or office interior.
Add Visual Height with Sliding Panels
Your first concerns when choosing window treatments are likely practical – you need coverage for privacy and you probably want to control incoming light so you're not blinded by the sun in your home or office. That said, The Blinds Side is pleased to offer products that add both function and beauty to your interior spaces.
Sliding panels provide the same benefits at horizontal shades, but their positioning in the vertical plain delivers a different type of visual appeal. The height of these panels makes them a perfect choice for sliding doors or floor-to-ceiling windows, but you can also employ them to cover large picture windows or other windows in your home as a means of adding visual height and creating a more dramatic and elegant window display.
You could even take your efforts a step further by pairing your Graber or Hunter Douglas vertical panels with other window treatments. The juxtaposition of vertical and horizontal window coverings puts your styling over the top and creates an eye-catching focal point. Of course, you'll also enjoy added function with dual window treatments when it comes to lighting and privacy controls, especially if you prefer semi-transparent shades for daytime visibility.
Control Light and Privacy with Fabric Vertical Blinds
Adding fabric vertical blinds from The Blinds Side gives you increased control over the light entering your home, the privacy you enjoy, and your ability to take in the views outside your home or office. The simple mechanism of these vertical panels allows you to slide them open and closed with ease, so that you have total control over what you see and what can be seen from the outside.
Enjoy Quality, Enduring Products
When you choose sliding panels from Hunter Douglas or other reputable manufacturers, you'll get the quality and longevity you expect from your window treatments. They're also easy to maintain. They resist the accumulation of dust and require only an occasional wipe with a damp cloth to continue looking new for years to come.
If you're ready to find the window treatments that are perfect for your home or office interior, contact the qualified professionals at The Blinds Side today at 410-630-6940 or [email protected] to learn more about sliding panels and schedule your consultation.